Bonus Brief Overview
Promo Name:
€100 Casino Bonus & 150 Free Spins
Offer:
up to 100% up to €100 + 150 free spins
Bonus Type:
Deposit Bonus,
Deposit Free Spins Bonus,
Exclusive Bonus,
High Roller Bonus,
Welcome Bonus
Brand:
SuperLenny Casino
Duration:
not valid
Game:
150 free spins on Starburst, Fairytale Legends: Hansel & Gretel, Wild Wild West: The Great Train Heist, Aloha: Cluster Pays, Pyramid: Quest for Immortality
Min Deposit:
€20
Wagering:
40x (match bonus), 20x (free spins)
Additional Terms:
When you make your first deposit you will be automatically credited with 50 free spins. You will be credited an additional 10 free spins daily for 10 days following your first deposit. Deposits made using Neteller, Skrill (Moneybookers) or Paysafecard are not eligible for this offer. If your bonus is not credited automatically, please contact Customer Care immediately so that Super Lenny Casino can credit the bonus for you manually. If the deposit has been played before the bonus is credited, Super Lenny Casino is not able to credit it for you. The Welcome bonuses and any winnings generated from bets placed with the bonus balance will get forfeited 30 days after the bonus has been credited if the wagering requirements have not been met.
Restricted Countries from this Bonus:
BA, BG, CN, CZ, DK, EE, ES, FR, GE, GR, HR, HU, ID, IN, IT, LT, LV, MD, MU, PK, PL, PT, RO, RU, SI, SK, TH, TR, UA, US
Restricted Countries at the Casino:
AF, AG, AI, AO, AS, AU, AW, AX, BB, BE, BF, BG, BI, BJ, BL, BM, BQ, BS, BT, BV, BW, BZ, CC, CD, CF, CG, CI, CK, CM, CN, CR, CU, CV, CW, CX, CY, CZ, DJ, DK, DM, DO, DZ, EC, EE, EG, EH, ER, ES, ET, FJ, FM, FO, FR, GA, GD, GF, GH, GL, GM, GN, GP, GQ, GR, GS, GT, GU, GW, GY, HK, HM, HN, HT, HU, ID, IL, IN, IO, IQ, IR, IT, JM, JO, KE, KG, KH, KI, KM, KN, KP, KW, KY, LA, LC, LR, LS, LY, MA, ME, MF, MG, MH, ML, MM, MP, MQ, MR, MS, MU, MV, MW, MY, MZ, NA, NC, NE, NF, NG, NI, NP, NR, NU, OM, PA, PF, PG, PH, PK, PL, PM, PN, PR, PS, PT, PW, RE, RO, RU, RW, SB, SC, SD, SG, SH, SI, SJ, SK, SL, SN, SO, SR, SS, ST, SV, SY, SZ, TC, TD, TF, TG, TJ, TK, TL, TM, TN, TO, TR, TT, TV, TZ, UG, UM, US, UZ, VA, VC, VG, VI, VU, WF, WS, YE, YT, ZA, ZM, ZW
Welcome Bonus Detailed Review
Read our experts' response to a Super Lenny Casino Welcome Bonus – €100 Casino Bonus & 150 Free Spins. On a recent day, we obtained information showing a new depositor at the website could get FSs plus a cash gratification for signing in to the Super Lenny. At the time, we also learned that the majority didn't understand the terms.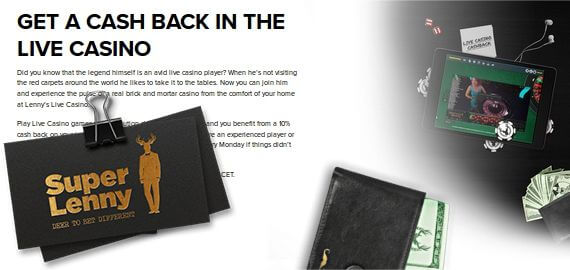 And the rules sound like the details were worked out ahead of time. For example, you invest the minimum deposit of €20 written in the bonus terms. But you don't receive 150 Free Spins, only the third part of the amount belongs to you on the day. The money bonus equals your investment.
Plus, the wagering is 40 times, for free spins gains – 20 times. Are you ready to move on with the terms? We tried hard to wager on €20 * 40 = €800 for a long time, and we're really disappointed. Especially, when payments made via Neteller, Paysafecard or Skrill (Moneybookers) aren't eligible.
Before we head to a next no deposit bonus, let's take a look at the presented games for the welcome offer: Starburst; Fairytale Legends Hansel & Gretel; Wild Wild West: The Great Train Heist; Aloha Cluster Pays; Pyramid: Quest for Immortality.