Bonus Brief Overview
Promo Name:
$30 Free Chip
Offer:
$30 Free
Bonus Type:
No Deposit Bonus,
Welcome Bonus
Brand:
Prism Casino
Duration:
any day any time
Code:
PRISM30
Game:
Slots, Keno, Bonus Bingo, Scratch Cards and All Other Games excluding Live Dealer Games, Baccarat, Craps, Pai Gow Poker, Pontoon 21, Roulette, Sic Bo and War.
Min Deposit:
no fee
Wagering:
30x (bonus) for Slots, Keno, Bonus Bingo, Scratch Cards;
60x (bonus) for all other allowed games
Max Cashout:
$100
Additional Terms:
This Promo is for New Accounts only & First-Time depositors only
Restricted Countries from this Bonus:
AD, AI, AR, AS, AW, AX, BE, BQ, CH, CK, CL, DE, ES, FI, GB, GR, GU, IS, MP, MQ, MS, NF, NL, NU, NZ, PR, PT, SE, SM, UY, VE, YT
Restricted Countries at the Casino:
AE, AF, AG, AL, AM, AO, AZ, BA, BD, BF, BG, BH, BI, BJ, BL, BN, BO, BR, BT, BW, BY, BZ, CC, CD, CF, CG, CI, CM, CN, CO, CR, CU, CV, CW, CY, CZ, DJ, DK, DM, DO, DZ, EC, EE, EG, EH, ER, ET, FJ, FK, FM, FO, FR, GA, GD, GE, GF, GG, GH, GI, GL, GM, GN, GP, GQ, GS, GT, GW, GY, HK, HM, HN, HR, HT, HU, ID, IE, IL, IM, IN, IO, IQ, IR, IT, JE, JM, JO, KE, KG, KH, KI, KM, KN, KP, KW, KZ, LA, LB, LC, LI, LK, LR, LS, LT, LV, LY, MA, MD, MD, ME, MF, MG, MK, ML, MM, MN, MO, MR, MT, MU, MV, MW, MY, MZ, NA, NE, NG, NI, NP, NR, NY, OM, PA, PE, PF, PG, PH, PK, PL, PM, PN, PS, PW, PY, QA, RE, RO, RS, RU, RW, SA, SB, SC, SD, SH, SI, SJ, SK, SL, SN, SO, SR, SS, ST, SV, SX, SY, SZ, TC, TD, TF, TG, TH, TJ, TL, TM, TN, TO, TR, TT, TV, TW, TZ, UA, UG, UZ, VC, VN, VU, WF, WS, YE, ZM, ZW
$30 Free Chip Bonus Detailed Review
Get ready to change your worldview with Prism Online Casino and its outlooking Welcome Bonus to grab. Are you ready? Then learn about the rules of getting $30 Free Chip Bonus right then and there!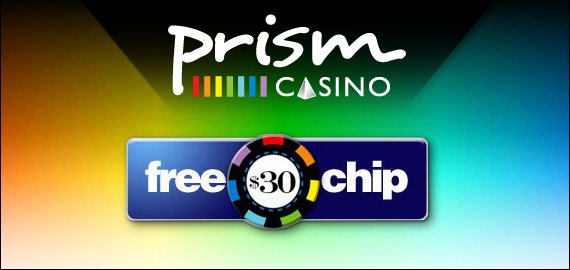 The first thing to mention is that it's totally FREE offer. Due to it, you can handle the promo cash just for opening your real player account at this RealTime Gaming casino. Sounds spectacularly? It is what it is 🙂 So, don't hesitate and use the bonus code PRISM30 straight away you pass the registration and the real player chip.
After that you will have FREE $30 to try your luck at engrossing casino games by RTG. Feel free to choose any entertainment out of the list: Slot Machines, Bonus Bingo as well as Keno, Scratch Cards and others. Here is also the choice of entertainments you should pass by Live Dealer games along with variants of Baccarat, Pai Gow or any Roulette, Pontoon 21, Sic Bo and Craps kinds, Casino War.
Just because they are excluded. Herewith, make the right choice and win real cash just like that. Moreover, Prism casino allows you to withdraw up to $100 of your gains. But then, you are to meet the wagering prior to claiming the money prizes. And the size of the requirement depends on the entertainments you select for the purpose. Therefore, play through your bonus amount by:
30 times if you stake on Scratch Cards, Slots, Bonus Bingo or Keno
60 times in case you bet on any other allowed game
Hence, you need to make bets on the certain sum of money. For example, you pick online pokies to complete the wager. In such a way you need to bet $30 x 30 = $900 as the minimum. Or it can be as high as $30 x 60 = $1,800 in the worst case scenario.
But don't try to playthrough the coupon code by playing any Roulette game as well as by staking on Pai Gow Poker, Casino War, Sic Bo, Blackjack Pontoon 21, Baccarat variations or Craps. It's pointless. Because no one bet will be counted towards the wager in the case.
However, you can take the no deposit free play bonus to try your hand and improve your skills without any risk for your own budget. So, why not? Click the button and give the go-ahead for joyful gameplay!