Bonus Brief Overview
Promo Name:
Hot Seat - It's a Guaranteed Win!
Offer:
win up to $/€/£500
Bonus Type:
No Deposit Bonus
Brand:
Fly Casino
Duration:
each month
Game:
Video Poker play does not count
Min Deposit:
$/€/£0
Wagering:
0x (bonus)
Max Cashout:
$/€/£500
Additional Terms:
Available for every player every month. For each qualifying gaming day players will be awarded with one Hot Seat Point. A gaming day is defined as a unique day on the calendar. A minimum of $/€/£1,250 in "total wagers" placed per gaming day is required to earn 1 Hot Seat point. The more days that players play, the hotter seat gets and the more cash players win. Players must play a minimum any 5 of 31 gaming days during a month to win a prize. Winnings will be credited by the 4th of the next month.
Restricted Countries at the Casino:
AF, AN, AS, BG, CN, CU, CW, CY, CZ, EE, ES, FR, GB, GF, GP, GU, HK, HU, IL, IQ, IR, IT, LY, MO, MP, MQ, PH, PR, RE, RS, SC, SD, SY, TR, UM, US, VI, YE, YT
No Deposit Bonus Detailed Review
Our observers are ready to move on from deposit bonuses to "0" deposit ones. In a research on Fly Casino promotions, experts recently revealed that all players of the website might win $/€/£500 or about, following the rules applied to a so-called "Hot Seat", which is set to be played each month. You don't think of getting off the train before it is off, do you?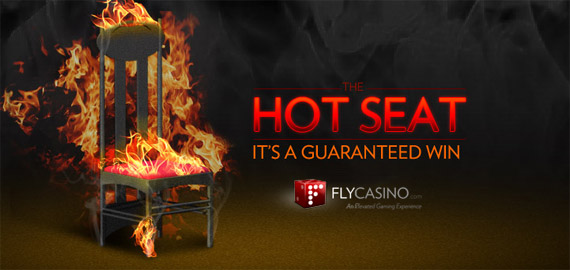 Fly casino players, who have been playing since the start of the month, would gain a "hot" point, placing a pointed out minimum of $/€/£1,250 in his or her total wagers per day. And despite a great deal of the advantages, you will likely be spending for about $/€/£6,250 for 5 compulsory gaming days.
And while things may be cool when it comes to $/€/£15 up to $/€/£500 earned, players have recently opened up about the money matter. You'll have to waste $/€/£35,000 to gain the opportunity to return the guaranteed $/€/£500 cashback. Dare we notice that it is not as hot now!
As we continue our bonus list, everyone should check the wagering rules and other specifics as all these demands/terms should be as a glove, which fits so great. Here the just mentioned play-through amounts zero. However, read over the paragraph above and you'll get the core of their "charity".
How would the reward have impacted you for the better? Since you are a regular Fly player and a huge fan of Playtech games. In addition, it is good to know you can have some money back for sure if you have lost the pot. Is such a situation painfully familiar to you? Decide upon the offer if your budget allows such expenses, but don't meet the "total wager" terms on purpose to gain extra money.