Bonus Brief Overview
Promo Name:
The Fantasy Fortnight Reel Spinoff Tournament
Offer:
giveaway £/€10,000 in prizes with the first prize being a fantasy holiday
Bonus Type:
Deposit Bonus
Brand:
PlayOJO Casino
Duration:
from 26/02/2018 00:00 until 11/03/2018 23:59 GMT
Game:
Ninja Master
Min Deposit:
£/€1
Additional Terms:
1 Ticket costs £/€1 and triggers 20 Tournament Spins. Tickets can be purchased directly with your balance or a deposit through the Fantasy Fortnight Reel Spinoff Tournament. There are no limits regarding the participation and players can buy as many tickets as they want. Get a FREE ticket every time you deposit. Depositing OJOers can claim 1 extra FREE ticket on Fridays. Players who place any account limitation such as a cooling off period, temporary suspension or self-exclusion or currently have such an account limitation forfeit their right to win and will be disqualified. Winners will be announced on Wednesday 14th March.
Restricted Countries at the Casino:
AU, BE, BG, CY, DE-SH, DK, EE, ES, FR, GR, HU, IL, IT, MX, NL, PL, PT, RO, TR, US
Deposit Bonus Detailed Review
Why the next offer of the £/€10,000 Giveaway may be our next top priority till Wednesday the 14th March? There's a myriad of advantages, obviously. Plus, there's something a tiny bit different and exclusive about the policy regarding such bonuses nowadays. Sure, this year's going to bring us more real money "plus" points. For example: The Fantasy Fortnight Reel Spinoff Tournament for Play OJO casino members, new players and all related, to claim.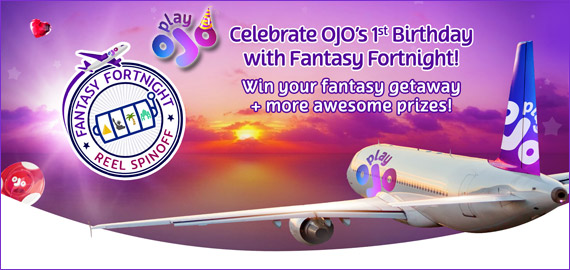 And with your £/€1 deposit in the mix, it seems like a casino client may also be gaining 20 (twenty) Tournament Spins just like that. Gratis rounds credited as many times as depositor funds the account. Let alone their influence, which has been considered as that one option to unlock the dreamed-about "£/€10,000 Prize" of the OJO real money bonus, that also feels particularly fitting your holiday ambitions. Right?
Anyway, as our reviewers edge closer to sharing with you the cashing out guide, it has become clear you're going to have bigger chances than any could have apparently predicted. Almost no deposit bonus, no play through, no account limitations and the catch is yours.
It has been 3 minutes since we've presented the promotion, but people are already lighted up by the idea with the above-mentioned perspectives, and no other deposit bonus comes closer.