Bonus Brief Overview
Promo Name:
Welcome Bonus package €1000
Offer:
up to 100% up to €1000
Bonus Type:
Deposit Bonus,
Welcome Bonus
Brand:
NightRush Casino
Duration:
any day any time
Min Deposit:
€20
Wagering:
45x (bonus)
Additional Terms:
The Welcome Bonus package is only valid for newly registered players. Players depositing with Skrill or Neteller won't be allowed to claim welcome bonuses. Future bonuses can be claimed using these payment methods.
Permitted Countries for this Bonus:
AT, CZ, DE, FI, NO, SE
Restricted Countries at the Casino:
AE, AF, AG, AI, AM, AO, AQ, AU, AW, AZ, BB, BD, BE, BF, BG, BH, BI, BJ, BM, BN, BO, BR, BS, BT, BW, BY, BZ, CC, CD, CF, CI, CK, CL, CM, CN, CO, CR, CU, CV, CX, CY, DJ, DK, DM, DO, DZ, EC, EE, EG, EH, ER, ES, ET, FJ, FK, FM, FO, FR, GA, GB, GD, GE, GF, GH, GL, GM, GN, GP, GQ, GR, GT, GU, GW, GY, HK, HN, HT, HU, ID, IE, IL, IN, IO, IQ, IR, IT, JM, JO, JP, KE, KG, KH, KI, KM, KN, KP, KR, KW, KY, KZ, LA, LB, LC, LK, LR, LS, LY, MA, MD, MG, MH, ML, MM, MN, MO, MQ, MR, MS, MU, MV, MW, MX, MY, MZ, NA, NC, NE, NF, NG, NI, NP, NR, NU, OM, PA, PE, PF, PG, PH, PK, PM, PR, PS, PW, PY, QA, RE, RU, RW, SA, SB, SC, SD, SG, SH, SL, SN, SO, SR, ST, SV, SY, SZ, TC, TD, TG, TH, TJ, TK, TL, TM, TN, TO, TR, TT, TV, TW, TZ, UA, UG, US, UY, UZ, VC, VE, VG, VI, VN, VU, WF, WS, YE, YT, ZA, ZM, ZW
Deposit Bonus Detailed Review
Starting the journey thru online gambling is always very exciting. First, you don't know whether everything will pass smoothly. Besides, it is very important to be sure that the conditions are fair and you can relish your pastime without thinking about your safety.
That's why, when visiting NightRush Casino online, I examined all the terms and decided to share my experience with you. Look through the review and get details over its alluring bonus, including both pros and slight specialties.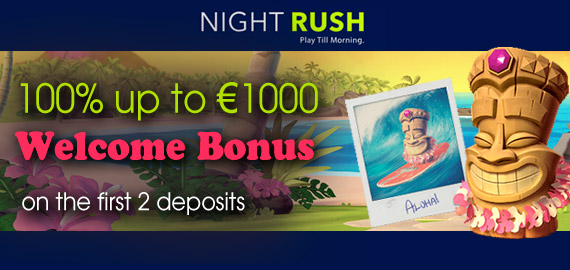 Everything begins right at that moment when you register a new account at the casino and become its member. This is the way not only to observe the list of bonuses, but also to activate them for playing games.
This time, you meet €1,000 Welcome Bonus Package. It is valid for new players only and consists of 2 parts. You can trigger them both with the help of €20 deposit, which is the minimum, as there is no NightRush Casino No Deposit Bonus yet. Herewith, you can transfer even more, if you wish 😉
Have a cup of coffee, because this night is going to be white. The first noon prepares 100% up to €500 match offer. That's how you can double the balance in one action. This opportunity is unique, so, think twice how exactly you will use it.
The following step is pretty predictable. Make another input of €20 and wait for the second present rewarding 50% up to €500. At that rate, you receive a half of your investment back and increase the amount in any case. One thing I want you to remember is that Skrill and Neteller can't be used to claim the promo. Any other banking method is available.
The last target is left. Once your pack is over and you have relished all its pros, you should think about the 45x wagering. For instance, you deposit €20 and get another €20 as your bonus. Now, you are to win the amount back 45 times and get €900 balance in the end.
Now, you are free to redeem the winnings and do whatever you want. Yeah, life is great and it get even more interesting at night 😉