Bonus Brief Overview
Promo Name:
First Deposit Bonus
+ 200 Welcome Free Spins
Offer:
100% up to €100 + 200 Free Spins
Bonus Type:
Deposit Bonus,
Deposit Free Spins Bonus,
Welcome Bonus
Brand:
Mr. Green Casino
Duration:
any day any time
Game:
Starburst (free spins)
Min Deposit:
€10 (100% match);
€20 (free spins)
Wagering:
35x (free spins);
35x (bonus)
Additional Terms:
Only newly registered players completing their first deposit and wager of a minimum of €20 are eligible for 100 Free Spins on 'Starburst' plus a further 20 days of 5 Free Spins per day on various games.
Restricted Countries from this Bonus:
AL, BG, BY, CN, HR, HU, ID, IL, IN, LT, LV, MY, PK, RO, RS, RU, SG, SI, SK, TH, UA, VN
Restricted Countries at the Casino:
AE, AF, AG, AI, AM, AO, AQ, AW, AZ, BB, BD, BE, BF, BG, BH, BI, BJ, BM, BN, BS, BT, BW, BY, BZ, CC, CF, CG, CI, CK, CM, CN, CR, CU, CV, CX, CY, CZ, DJ, DK, DM, DO, DZ, EE, EG, EH, ER, ES, ET, FJ, FK, FM, FO, FR, GA, GD, GE, GF, GH, GL, GM, GN, GP, GQ, GR, GT, GU, GW, HK, HN, HT, ID, IL, IN, IO, IQ, IR, JM, JO, JP, KE, KG, KH, KI, KM, KN, KP, KR, KW, KY, KZ, LA, LB, LC, LK, LR, LS, LY, MA, MD, MG, MH, ML, MM, MN, MO, MQ, MR, MS, MU, MV, MW, MY, MZ, NA, NC, NE, NF, NG, NI, NP, NR, NU, OM, PA, PF, PG, PH, PK, PM, PR, PS, PW, QA, RE, RU, RW, SA, SB, SC, SD, SG, SH, SL, SN, SO, ST, SV, SY, SZ, TC, TD, TG, TH, TJ, TK, TL, TM, TN, TO, TR, TT, TV, TW, TZ, UA, UG, US, UZ, VC, VG, VI, VN, VU, WF, WS, YE, YT, ZA, ZM, ZW
Welcome Bonus Package Detailed Review
Get off on… Interstate "Mr Green Casino". It begins as a desired 100% up to €100, becomes an adventure, and ends as the ultimate Mr Green 20 Free Spins. No fooling! Create the account, the real one, and embark on a venture. How you can be sure of the operator's legality and safety? 11 Software company have confided into it, but you can't you?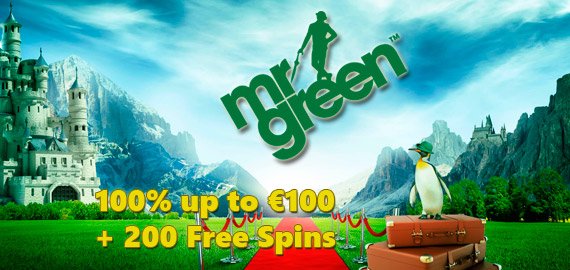 Malta and UK commissions accredited the services, feel free to register with Mr Green gambling house. However, having made a deposit of €10, (as minimum), you'll get all the right to claim for doubling up your purchase. There is a way for real cash depositors to get more by adding €20 on the balance to experience Free Games on Starburst slot by NetEnt provider for free. What's more, you can obtain up to 200 Free Spins split to your first 5 deposits. Yeah, that's a lot to think about 😉
Players from AL, BG, BY, CN, HR, HU, ID, LT, IN, MY, RU, PK, LV, IL, RS, RO, SG, TH, VN, UA, SI, SK, having arrived at the bonus way, now your roads separate as you have no power at the online casino as well as some other countries' gamblers who are unwelcome ;(
Well, here we are at last! Very good time to come and find out the terms, restrictions, benefits for withdrawing the wins. The playthrough requirements of 35 times for cash or free spins all the same. Would you wager a sum worth of thousand dollars? It is about 35 * (20+20) = $1,400 as a minimum.
Most of the times, players feel cornered, here it is all about "give-and-take" attitude. The suggestion and the website itself is fair. Check the confirmation of the offer's advantages over the other welcome promos within the gambling market.