Bonus Brief Overview
Promo Name:
€100 Weekend Reload Bonus
Offer:
50% up to €100
Bonus Type:
Deposit Bonus
Brand:
NightRush Casino
Duration:
not valid
Min Deposit:
€50
Wagering:
45x (bonus)
Restricted Countries at the Casino:
AE, AF, AG, AI, AM, AO, AQ, AU, AW, AZ, BB, BD, BE, BF, BG, BH, BI, BJ, BM, BN, BO, BR, BS, BT, BW, BY, BZ, CC, CD, CF, CI, CK, CL, CM, CN, CO, CR, CU, CV, CX, CY, DJ, DK, DM, DO, DZ, EC, EE, EG, EH, ER, ES, ET, FJ, FK, FM, FO, FR, GA, GB, GD, GE, GF, GH, GL, GM, GN, GP, GQ, GR, GT, GU, GW, GY, HK, HN, HT, HU, ID, IE, IL, IN, IO, IQ, IR, IT, JM, JO, JP, KE, KG, KH, KI, KM, KN, KP, KR, KW, KY, KZ, LA, LB, LC, LK, LR, LS, LY, MA, MD, MG, MH, ML, MM, MN, MO, MQ, MR, MS, MU, MV, MW, MX, MY, MZ, NA, NC, NE, NF, NG, NI, NP, NR, NU, OM, PA, PE, PF, PG, PH, PK, PM, PR, PS, PW, PY, QA, RE, RU, RW, SA, SB, SC, SD, SG, SH, SL, SN, SO, SR, ST, SV, SY, SZ, TC, TD, TG, TH, TJ, TK, TL, TM, TN, TO, TR, TT, TV, TW, TZ, UA, UG, US, UY, UZ, VC, VE, VG, VI, VN, VU, WF, WS, YE, YT, ZA, ZM, ZW
Deposit Bonus Detailed Review
After two years, we really had seen a lot. Well, how to entertain the audience in 2018? That has been the issue for us till we got onto NightRush Casino. While other reviewers are trying the best to answer the question, we head you to pay attention to promotions on a weekly basis, i.e. a €100 Weekend proposition.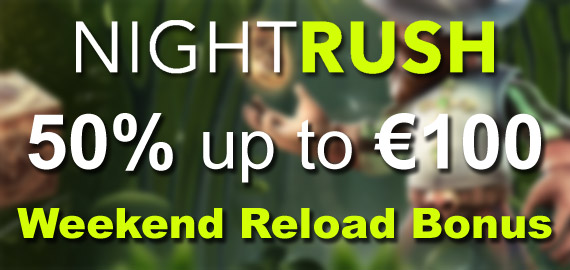 In addition, we've certainly had the study work cut out. We've spent hours reviewing the 50% up to €100 reload offer. And now you have only a couple of minutes to explore it and size everything up. So, during the NightRush welcome treat, you got a taste of freebies.
If you now spent all the cash away, thinking you had nothing for the next weekend, it is a mistake. Combine that with the next promo which requires your deposit of €50 on Friday after 16:00. The imposed payment would result into €25 extra atop of your balance. Herewith, €75 would be accessible for betting.
So, perhaps, you will probably like to increase your input on the following weekends, the answer is to transfer no more than €200, and rather just to get the maximum possible of €100.
Nobody would be got cut off in the middle of a weekend play up to 23:50 on Sunday, but ten minutes later, and the bonus is no more active.
The last thing is – Why do you have to desire this promo? Speaking of the advantages, the wagering, or play through, is 45 times. And we may sum up your possibilities to withdraw your gaining. Look, if you invest between €50 up to €200, you should wager on between €25 * 45 = €1,125 and €100 * 45 = €4,500.
But in terms of bonus force of attraction, the sums aren't to say something alluring or as best as you can expect to find. However, within this casino, it is a good chance to receive more cash in addition to your replenishment.