Bonus Brief Overview
Promo Name:
High Roller Bonus
Offer:
50% up to $/€/£500
Bonus Type:
Deposit Bonus,
High Roller Bonus,
Welcome Bonus
Brand:
Fly Casino
Duration:
any day any time
Game:
slot machines, keno and non-progressive scratch cards
Min Deposit:
$/€/£1,000
Wagering:
10x (deposit + bonus)
Additional Terms:
Maximum wagers of $6 (slots) are allowed.
Restricted Countries at the Casino:
AF, AN, BG, CN, CU, CW, CY, EE, ES, FR, HK, IL, IQ, IR, IT, LY, MO, PH, RS, SC, SD, SY, TR, US, YE
High Roller Bonus Detailed Review
Fly Casino presents High Roller 50% up to $/€/£500 Bonus for players who view the gambling world differently! The gambling house has the exclusive collection of perks to treat the sophisticated audience. Individually signed and contacted the operator at the VIP at FlyCasino.com.
The custom-made proposition given on $/€/£1,000 payment. Fly casino doesn't keep you back from depositing more, but there is no point in it at all. Why? Well, think about it is clearly stated to cash out the wins, playthrough the deposit and bonus credits by 10 times.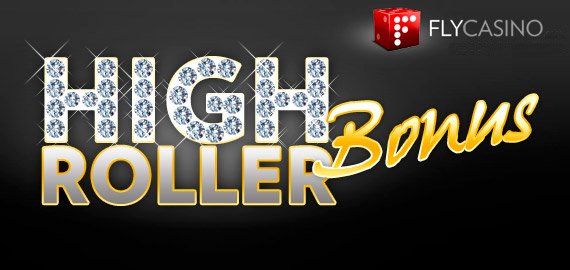 As the proposition maxes out five hundreds! However, to withdraw the bonus gains, you will say goodbye to (1,000 + 500) * 10 = $/€/£15,000. And if you increase any of parameters, you will get the higher amount, what is not recommended considering the max $6 bet (or currency equivalent).
As well as to enter Marvel, MGM, Universal themed games and even Pink Panther, Punisher, all Progressive machines, Iron Man, Iron Man2, Hulk, Blade, Elektra, Fantastic 4, X-men, Daredevil, Kong are under the ban.
So, do you still want some free cash? Yep, welcome suggestions vary and our list of the best casino perks is a perfect illustration of this! Anyway, no other range even comes closer 😉 Back to the promo, we've mentioned from the start it is the proposition for a select few, for whales, who have wagered even larger amount of sums and cashing out recommended 15 thousand euros/dollars or pounds are the child's play for you.