Bonus Brief Overview
Promo Name:
Cool Spinnings
Offer:
45 refreshing sets of free spins plus daily bar boost and the coupled offer (one special offer every single day)
Bonus Type:
Deposit Bonus,
Deposit Free Spins Bonus,

Brand:
Guts Casino
Duration:
from June 12th 2017 until 23:59 (UTC) on August 20th 2017
Game:
any favourite Guts casino game
Min Deposit:
€20 (200kr, $20, £20)
Wagering:
0x (free spins)
Additional Terms:
During the Promotional Period, players can work towards progressing through the 45 progress levels by wagering at the casino. Upon completing a level in the progress bar, players can select one of two offers in the form of free spins. Once players have selected this, the free spins shall be awarded automatically. Players can open the game in question, and play them at their convenience. The progress bar will update after each individual qualifying game round played. Players are free to make a qualifying deposit at any stage during the Promotional Period and thereby ensure their eligibility.
Permitted Countries for this Bonus:
AT, CH, DE, FI, GB, GI, IE, MT, NL, NO, NZ, SE
Restricted Countries at the Casino:
AF, AS, BE, BG, BV, CY, CZ, DK, DZ, EC, EE, EH, ES, ET, FO, FR, GL, GR, GS, GU, HK, HU, ID, IL, IN, IO, IQ, IR, IT, JO, KM, KP, KW, LY, ME, MH, MM, MP, MY, NC, NG, PH, PK, PL, PR, PS, PT, RO, SD, SG, SI, SO, SS, SY, TR, US, VA, VI, YE, ZA
Free Spins Deposit Bonus Detailed Review
Heading into the summer like… Like the King of slot machines, cuz you can! Guts casino, running on a multitude of software suppliers, by the bye, addresses a challenge to its website clients.
Those who enter the game of the week and work through the 45 progress levels by making wagers can take away free spins earned winnings at "ZERO" wagering terms.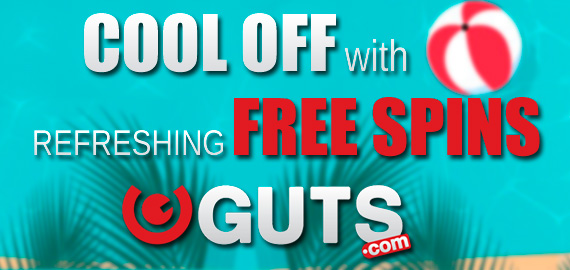 If you got the account there, meet the challenge – and this summer, 2017, you will have definitely make a bank! How? Let's see the complete list of the cashout requirements at Guts.
So, could the gambling house take us on vacation? Ugh, else wishes it was still the 12th of June? Cool Spinning Promo has started running that day, yet you have got upon the promo review at a good hour. It's official: the offer will be over on August 20th 2017 only.
In a recent announcement, the casino owners offer the slot or pokie spinners to have the unique chance to fill up the bar when betting for cash. Every twenty-four hours, the entertainment will be changed.
We experienced so many Microgaming, NetEnt, Betsoft, IGT, Leander amusements and amazing casino places of the kind with such a diverse promotion variety and our collection speaks to the fact. Agree?
So, you have great opportunities to gamble for real funds and withdraw the wins by completing progressing the bar through. One chooses 1 of 2 suggested free spins prizes to get the award automatically.
For once in your life, without making the deposit, you already have what it takes to gain cash. Once you feel the winnings are coming, make a minimum €20 (200kr, $20, £20) to qualify the eligible promo gains. That is the end of our story 😉