Bonus Brief Overview
Promo Name:
$25 Free + 10 Free Spins
Offer:
$25 + 10 Free Spins on Batter Up!
Bonus Type:
Exclusive Bonus,
No Deposit Bonus,
No Deposit Free Spins Bonus,
Welcome Bonus
Brand:
Slot Madness Casino
Duration:
any day any time
Code:
TVAY79
Game:
Slots & Keno ($25 Free);
Batter Up! Slot (10 Free Spins)
Min Deposit:
no fee
Wagering:
30x (bonus)
Max Cashout:
$100
Additional Terms:
Players cannot redeem multiple free bonuses consecutively.
Restricted Countries from this Bonus:
AD, AI, AR, AS, AW, AX, BE, BQ, CH, CK, CL, DE, ES, FI, GB, GR, GU, IS, MP, MQ, MS, NF, NL, NU, NZ, PR, PT, SE, SM, UY, VE, YT
Restricted Countries at the Casino:
AE, AF, AG, AL, AM, AO, AZ, AZ, BA, BD, BF, BG, BH, BI, BJ, BL, BN, BO, BR, BT, BW, BY, BZ, CC, CD, CF, CG, CI, CM, CN, CO, CR, CU, CV, CW, CY, CZ, DJ, DK, DM, DO, DZ, EC, EE, EG, EH, ER, ET, FJ, FK, FM, FO, FR, GA, GD, GE, GF, GG, GH, GI, GL, GM, GN, GP, GQ, GS, GT, GW, GY, HK, HM, HN, HR, HT, HU, ID, IE, IL, IM, IN, IO, IQ, IR, IT, JE, JM, JO, KE, KG, KH, KI, KM, KN, KP, KW, KZ, LA, LB, LC, LI, LK, LR, LS, LT, LV, LY, MA, MD, MD, ME, MF, MG, MK, ML, MM, MN, MO, MR, MT, MU, MV, MW, MY, MZ, NA, NE, NG, NI, NP, NR, NY, OM, PA, PE, PF, PG, PH, PK, PL, PM, PN, PS, PW, PY, QA, RE, RO, RS, RU, RW, SA, SB, SC, SD, SH, SI, SJ, SK, SL, SN, SO, SR, SS, ST, SV, SX, SY, SZ, TC, TD, TF, TG, TH, TJ, TL, TM, TN, TO, TR, TT, TV, TW, TZ, UA, UG, UZ, VC, VN, VU, WF, WS, YE, ZM, ZW
Exclusive Welcome Bonus Detailed Review
Are you MAD about slot machines? Sit down then. It's a safety thing… Just because $25 free Sign up Casino called Madness is going to blow your mind by offering Exclusive No Deposit Bonus. Yeah! If you are a newbie in the online gambling house, you get a chance for a flying start with $25 Free + 10 Free Spins Welcome Promo. Crave to grab? Learn the rules first by means of reading further 😉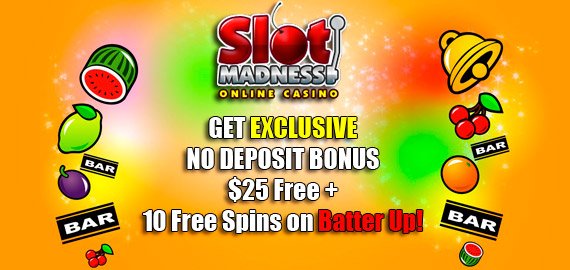 Herewith, all newcomers, who open their real money accounts, can count on $25 in free cash along with 10 Free Spins on Batter Up! Slot as no deposit promotions.
It means you get the bonuses just like that. There is even no need to cash in your casino balance. Just enroll the special coupon code TVAY79 straight away you've finished the registration. That's all. After, you are free to defy your luck by setting $25 free on any slot machine or keno game from the casino content.
However, there is the one limit to face and it's applied to 10 Free Spins offer. You can use the promotion to play Batter Up! slot only. However, it shouldn't be a trouble for you. Because this sport-themed game can astonish you with its features and prizes. Thus, spin 5 reels and activate all possible 25 paylines to increase your chances for taking down the home team, Free Spins at 3x Multiplier and 10,000x jackpot amount. Enjoy the game and FREE bonus!
Besides, not only the process of getting the promo is easy. Due to the rules, Slot Madness permits to cash out up to $100 of your wins gained with the welcome offer. But in such a case, the online casino asks you to meet 30x wagering. The requirement is attached to the bonus amount only. So, you need to make stakes on the sum of $25*30 = $750 to withdraw the gains. Play your favorite games (from allowed ones!) to get wants and needs met.
ATTENTION! You can't mix up deposit and no deposit offers at Slot Madness casino. Thus, if you accept this exclusive bonus, forget about the sign up match bonuses. But the choice is evident as for us… Anyway, it's only up to you. Claim for the bonus that appeals to your wishes and preferences to enjoy your gameplay at the fullest 😉