Bonus Brief Overview
Promo Name:
Lucky 21
Offer:
play blackjack and win $210 cash
every 21st of the month
Bonus Type:
Live Bonus
Brand:
Royal Panda Casino
Duration:
between the hours of 00:00 and 23:59 (CET)
on the 21st day of each month
Game:
Royal Panda Casino Casino Live Blackjack or Royal Panda Casino Casino Live Blackjack VIP
Wagering:
any amount within the confines of the table limit selected
Max Cashout:
$210
Additional Terms:
The three winners will be selected at random, and announced on the casino's Facebook page the following day. The $210 cash will be added to the winners' accounts at noon on the 22nd. The number of blackjacks attained, or the amount wagered, by the player during the period shall have no bearing on the outcome of the draw.
Restricted Countries at the Casino:
BE, CZ, DK, ES, FR, HU, IL, IT, PT, SG, SI, TR, US
Lucky 21 Live Bonus Detailed Review
The chance of a lifetime knocks! Will you let Royal Panda Casino in? Let us prove the $210 Royal Panda Blackjack Bonus worth time and investment. Find ways and means to play 21 games for free cash is a challenge for real players. From the heap of different new casino bonuses, we put that promo under the spotlight.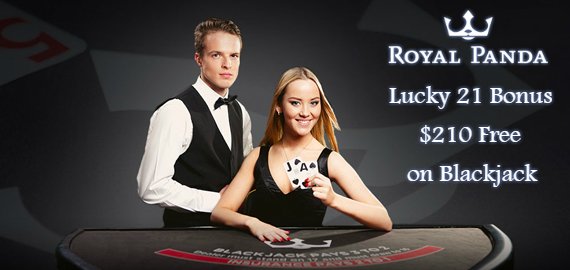 So, what are the terms?
Play Live Blackjack or VIP (available on the 21st day of a month);
Have 1 or up blackjack games by the midnight;
Look at 3 (Live) winners on the gambling house page on Facebook.
The tried-and-true promo pleaser is too good to pass up. So, don't! Register with Royal Panda now. The suggestion has no limits on the wager's sum under the chosen table limit, of course. You will cash out up to $210 when meeting the requirements on the withdrawing. It is so simple and everyone can become the prizetaker.
Moreover, not only one fortunate user of the Live gambling house will benefit playing for real money. About the royal place, Microgaming, NetEnt, Rabcat, 1×2 Gaming game products make it the "Gambling Empire" itself!
It's incredible, but true, anyone can get in the list of the three at noon on the 22nd of each month.
It's not your imagination but $210 credited to your balance account. Hey, you can get them back thru Visa, Neteller, Skrill or another option, just play through the bonus win by 350 times.
How is it? For the welcome promotion, the Royal Panda has 35x wagering requirements, but only 10% counts towards the card games the blackjack belongs to. $210 x 350 equals $73,500. Hopefully, you haven't got restrictions on the bets' sum. As they can be as high as you can afford yourself. Always good to have the means to match the ambition. Isn't it?