Bonus Brief Overview
Promo Name:
Wild Wild West Roulette
Offer:
an instant €5 (five Euros) in Bonus Money per day for a cumulative total of €20 bet on NetEnt's 'Wild Wild West Roulette'
Bonus Type:
Deposit Bonus,
Live Bonus,

Brand:
Mr. Green Casino
Duration:
02/11 - 05/11,
09/11 - 12/11,
16/11 - 19/11,
23/11 - 26/11,
30/11 - 03/12, 2017.
Table opening hours are as follows: 14:00 CEST – 02:00 CEST
Game:
NetEnt's 'Wild Wild West Roulette'
Min Deposit:
€20
Wagering:
35x (bonus)
Additional Terms:
The same player can unlock a maximum of €5 (five Euros) in Bonus Money per day. A qualifying game round for the purposes of this promotion is a real money bet round when a player's bets cover less than 70% of the outcomes on the wheel. Game rounds in which a player's bets cover 70% or more of the outcomes on the wheel will not count as a qualifying game round. The Bonus Money is valid for seven (7) days after release.
Restricted Countries at the Casino:
AE, AF, AG, AI, AM, AO, AQ, AW, AZ, BB, BD, BE, BF, BG, BH, BI, BJ, BM, BN, BS, BT, BW, BY, BZ, CC, CD, CF, CI, CK, CM, CN, CR, CU, CV, CX, CY, CZ, DJ, DK, DM, DO, DZ, EE, EG, EH, ER, ES, ET, FJ, FK, FM, FO, FR, GA, GD, GE, GF, GH, GL, GM, GN, GP, GQ, GR, GT, GU, GW, HK, HN, HT, HU, ID, IL, IN, IO, IQ, IR, JM, JO, JP, KE, KG, KH, KI, KM, KN, KP, KR, KW, KY, KZ, LA, LB, LC, LK, LR, LS, LY, MA, MD, MG, MH, ML, MM, MN, MO, MQ, MR, MS, MU, MV, MW, MY, MZ, NA, NC, NE, NF, NG, NI, NP, NR, NU, OM, PA, PF, PG, PH, PK, PL, PM, PR, PS, PW, QA, RE, RU, RW, SA, SB, SC, SD, SG, SH, SL, SN, SO, ST, SV, SY, SZ, TC, TD, TG, TH, TJ, TK, TL, TM, TN, TO, TR, TT, TV, TW, TZ, UA, UG, US, UZ, VC, VG, VI, VN, VU, WF, WS, YE, YT, ZA, ZM, ZW
Live Bonus Detailed Review
Seeking for peace or happiness in our crazy world? You won't find it here as Mr Green casino offers nothing but pure Wild Wild West Bonus on Roulette thrill this time. The idea of instant €5 (five euros) in Bonus Money, and €100 in total, tickles your nerves, doesn't it?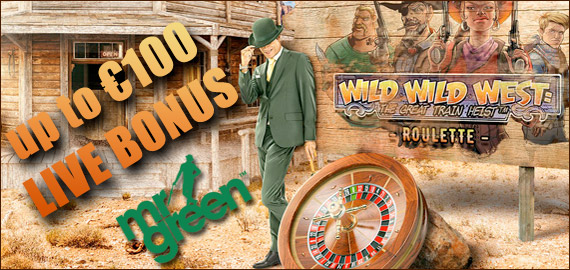 On the website the terms and demands are clear, almost clear. You need to see after the time, date, bet, game, etc. You can clarify any matter via a support. However, we give you the in-depth observing of this live bonus here on our site.
The bonus lasts till the 3rd December. Three-day promotional period repeats each 4 days within a month, starting from Thursday, the 2nd November. Play over and over again between 14:00 & 02:00 CET on those specific dates only.
We would more like to focus on the advantages of the perk. If you miss something, we are here to remind you of a min deposit of 20 euros (€20) needed to activate the account. Real Money profile at Mr Green gives you a chance to gain up to 100 euros during the last autumn month. As you may already guess, you'll receive €5 on each day of periods.
What? You have got plans for the season back-end, haven't you? Call them off! You will be busy thru November-December 2017, betting on the NetEnt's 'Wild Wild West Roulette' video slot. This ten-payline game allows €0.1 up to €100 stakes per spin. So, the wagering is not a problem to meet.
You are to cover 35x play-through term sooner than you think. When the cash out is possible there? When you make stakes on 35*€20 = €700. So that, how much money have you betted on already?