Bonus Brief Overview
Promo Name:
Race to the RACE!
Offer:
Win 2x VIP tickets to the Spanish F1 Grand Prix including flights & hotel on May 14th, 2017
Bonus Type:
Live Bonus
Brand:
Mr. Green Casino
Duration:
1st February 2017 at 00:00 (CET) - 28th February 2017 at 23:59 (CET)
Game:
Exclusive Live Casino Blackjack Exclusive Live Casino Roulette
Min Wager:
€20
Additional Terms:
Players must place qualifying wagers within the Promotional Period to be eligible for The Draw.
Restricted Countries at the Casino:
AE, AF, AG, AI, AM, AO, AQ, AW, AZ, BB, BD, BE, BF, BG, BH, BI, BJ, BM, BN, BS, BT, BW, BY, BZ, CC, CF, CG, CI, CK, CM, CN, CR, CU, CV, CX, CY, CZ, DJ, DK, DM, DO, DZ, EE, EG, EH, ER, ES, ET, FJ, FK, FM, FO, FR, GA, GD, GE, GF, GH, GL, GM, GN, GP, GQ, GR, GT, GU, GW, HK, HN, HT, ID, IL, IN, IO, IQ, IR, JM, JO, JP, KE, KG, KH, KI, KM, KN, KP, KR, KW, KY, KZ, LA, LB, LC, LK, LR, LS, LY, MA, MD, MG, MH, ML, MM, MN, MO, MQ, MR, MS, MU, MV, MW, MY, MZ, NA, NC, NE, NF, NG, NI, NP, NR, NU, OM, PA, PF, PG, PH, PK, PM, PR, PS, PW, QA, RE, RU, RW, SA, SB, SC, SD, SG, SH, SL, SN, SO, ST, SV, SY, SZ, TC, TD, TG, TH, TJ, TK, TL, TM, TN, TO, TR, TT, TV, TW, TZ, UA, UG, US, UZ, VC, VG, VI, VN, VU, WF, WS, YE, YT, ZA, ZM, ZW
Live Casino Race to the RACE! Bonus Detailed Review
Sportcars, speed, adrenaline rush… That's all about RACE. If your heart starts to beat faster after these words, then extraordinary bonus promotion from Mr. Green Casino Casino will be to your taste definitely. So, keep reading 😉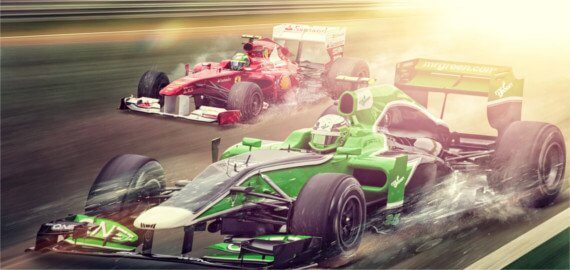 If you sleep and dream about getting a chance to take part in such an event as Formula 1 Gran Premio De España 2017, then all you need to do is to play exclusive Mr. Green's live Blackjack or Roulette games. Yeah!
Combine 2 thrills and get 2x VIP tickets to the Spanish F1 Grand Prix on May 14th, 2017 and it includes flights and hotel living. Already crave for it? Then it's high time for rules explanation. Everything is much easier than it seems at the first glance.
Herewith, all desirous to grab the bonus should place wagers of no less than €20 within the 1st and 28th February, 2017 to take part in The Draw. You will get 1 ticket entry for each €20 wagered. Note that only real money bets on specified live casino games are counted towards the promo. In the way 10 lucky players will be winners and get the following prize pool:
2x VIP tickets (winner + guest) to the Spanish F1 including hotel and flight for the 1st place
€1,000 for the 2nd place
€500 for the the 3rd place
€100 for the the 4th-10th places
If you are a lucky devil who becomes the winner of the promo-race, then wait for the call by telephone within 72 hours of The Draw. So, check out the assurance of all your personal data given in the account 😉
What about all other 9 winners, then you should check out your inbox within 72 hours after the campaign conclusion. Because you will be informed via the email. So that, give the right address not to miss out your FREE cash.
ATTENTION! Don't want to visit Spain and F1 race? Have plans for May 14, 2017? Don't be upset, dear winner, just because you are free to exchange the first prize for the money equivalent. Yep. Just mention that when you will get the call with good news.
So, what are you waiting for? HURRY UP! The live bonus race has started already!!! Don't linger and push the button to come in the first!